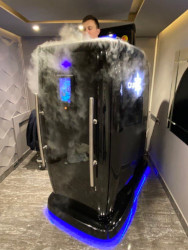 Cryotherapy, including Whole Body Cryotherapy is rapidly growing in popularity. While still in it's infancy in the market place it continues to grow as stand-alone businesses as well as an additional service or amenity offered in spas, wellness centers, sports medicine providers, fitness clubs and indoor tanning businesses.

This course provides a broad background understanding of cryotherapy as a potential business area.

This course is designed to familiarize you with cryotherapy services -
What it is.
How it works.
What benefits it is used for.
What equipment is used.
What are the regulations.
Enrollments in this course expire in 30 days.