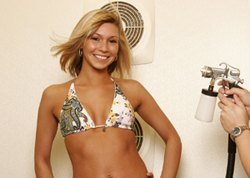 Spray Tanning is a fundamental offering for tanning businesses. It is used by people who already tan indoors and also attracts a new client base that chooses not to use UV based tanning.
Well trained Spray Technicians are key to providing the high quality applications that customers of this personal service require and expect.
This video course teaches how to deliver consistently high quality HVLP spray tan applications and includes body contouring techniques.

The material includes a module on things to do and consider in starting your own spray tanning business. That discussion serves as preparation for a full business startup course.
Enrollments in this course expire in 30 days.
We suggest you review the course material multiple times. After you take the course and do a first spray with a volunteer model go back through the course again. Repeat as needed; you can go through the course material as often as you wish for up to 30 days with a single course enrollment payment.