Price $25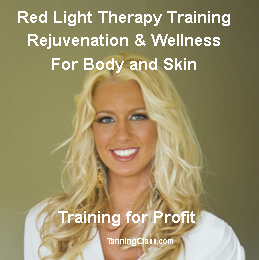 Red Light Therapy continues to increase in popularity in full service salons and spas, fitness clubs and gyms, as well as indoor tanning salons.

Now there is a alternative for Red Light Therapy Training. Before the SunFocus Red Light course the only options were for full esthetician curriculum courses requiring hundreds of hours of classroom time and many hundreds of dollars.
This course covers the delivery of Red Light therapy services.
Blue light, full spectrum light, InfraRed and other light therapies are also reviewed.

Laser, Intense Pulsed Light (IPL) and other therapies generally requiring an esthetician or medical credential / license are beyond the scope of this course; they will be overviewed, but are not intended to be covered in detail.

Login as "Guest" for a Red Light Therapy Free Course Preview

A couple of comments from business owners about our course -
"I was thrilled to find this course and am glad to have an affordable option for getting important information needed. The Resources and forms were a huge help. Thank you so much for making this available and affordable." - Mary
"Amazing content" - Brittany
"This course was informational and helpful!" - Noah
"This course was a huge help to understand RLT for our salon." - Cassie
"Easy to use" - Cindy
Business Bundle
; "Red Light Therapy Training" and "How to Start Your Own Business" courses both in a single enrollment for just $40
You should expect to spend about 2 hours in the course material.
Enrollments in this course expire in 30 days.